Product Description
NOW WITH CNC machined joints: This is a masivly anticipated and welcomed up-grade to the already super popular Anibild Three kit. CNC joints are stronger and perform better for longer. They are smoother in opperation and braze/solder with ease.
Anibild® THREE - A professional armature kit unlocks endless possibilities.
Build your characters and creatures from scratch using precision engineered, stainless steel, professional parts.
For best results, glue all balls with a threading compound (Loctite) not included but available here.
Key features:
18 engineered stainless steel joints

Hardened stainless steel balls and socket head screws

Jointed foot and toe with tie down options

Integrated rigging system

Solid stainless steel threaded bar system

Chest and hip 'grab bar'

Replacebale wire fingers system
Anibild® THREE is a precision-engineered armature to deliver maximum effect required by advanced and expert animators. The kit contains stainless steel joints with hardened stainless steel balls and socket head screws to make a humanoid armature. The joints are compact, strong and robust lending themselves to lengthy television production and feature film work. Anibild® THREE also contains multiple rigging points for your characters, which is fully integrated with the Anibild® Professional Rig system to support and execute technical and dynamic animation moves with your puppet.
Anibild®, although technical in it's specification, is incredibly easy to assemble. All balls and bars are M3 threaded and can be secured into the balls using a strong thread-lock (not included).
*Joints are 15mm in length. We recommend armatures being no larger than 30cm tall.
Full contents:
10 x 6mm stainless steel single joints
5 x 6mm stainless steel double joints
1 x 9mm stainless steel double ball joint
20 x 6mm stainless steel balls
2 x 9mm stainless steel balls
1 x stainless steel chest plate
1 x stainless steel hip ring
19 x steel socket head grubs screws
2 x stainless steel hand joint
2 x stainless steel t section hip and shoulder boss
6 x 25mm M3 stainless steel rod with thread
1 x 20mm M3 stainless steel rod with thread
4 x 50mm stainless steel rod with thread
2 x 75mm stainless steel rod with thread
4 x 10mm M3 full threaded bar
2 x 100mm M3 full threaded bar
2 x Allen key
1 x 1mm x 3m spool of aluminium wire (for fingers)
2 x M3 thread/washer/wing nut tie down
1 x Instructions
Anibild THREE will also require basic hand tools to put together (not supplied).
Please note that you will need Locite threadlock glue to make a perminant fixing off balls to threaded rod (not included) avialable to purchase here.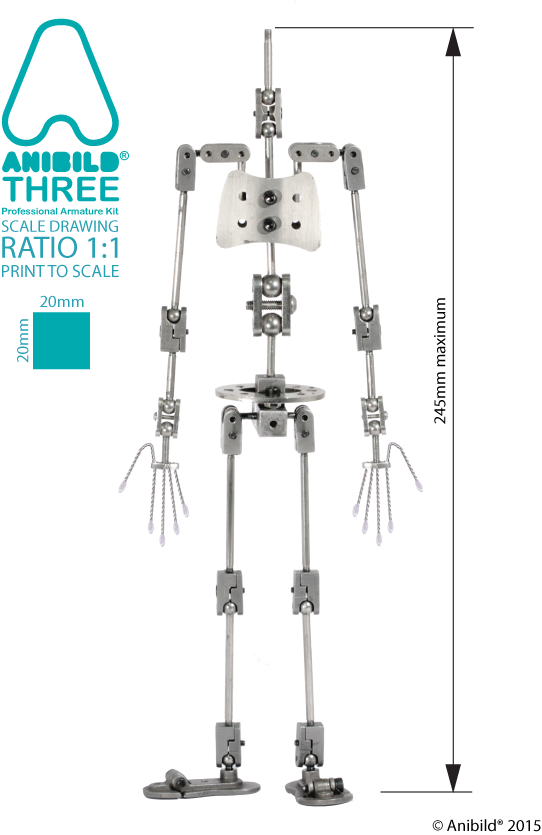 Product Videos
Custom Field
Product Reviews